Highlights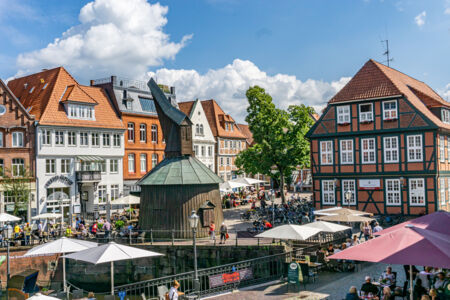 STADE Marketing und Tourismus GmbH
Hanseatic Harbour and fish market with a wooden crane
The Hanseatic Harbour is considered to be the oldest harbour installation on the lower river Elbe and a nationally significant cultural monument. The dock was built as early as the 13th century. During the Hanseatic era, the harbour was the trade centre for goods from all over Europe. Today, culinary experiences have taken over the area and restaurants host their guests by the harbour. The wooden treadwheel crane reminds visitors of the Hanseatic era.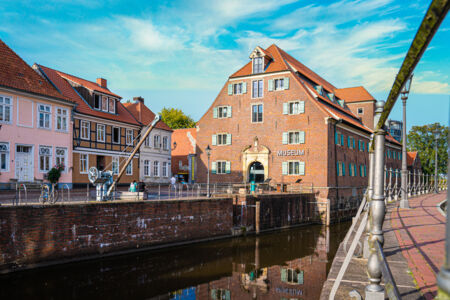 Twins | STADE Marketing und Tourismus GmbH
The Swedish Warehouse Museum
The Swedish warehouse at the Hanseatic harbour is equally as historic as the exhibits behind its old walls. The Swedes originally built the victual storehouse in 1692 for their garrison. Today, the warehouse hosts a prizewinning exhibition about Stade's prehistory and early history as well as its municipal and regional history. An exciting journey through time that should not be missed.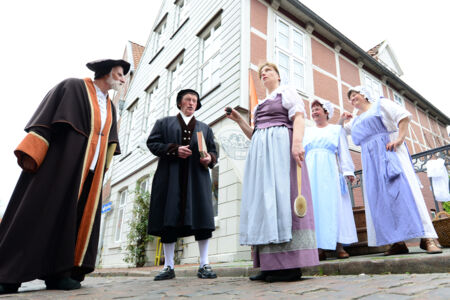 Elsen | Stade Marketing und Tourismus GmbH
Guided Tour "On the trails of the Hansa"
During the enacted guided city tour "On the trails of the Hansa", participants immerse themselves in around 350 years of Stade's town history just as if they had travelled back in time. On the tour, eight different personalities, from merchants to bathing attendants, await the guests in historical dress to reveal a piece of their lives during the Hanseatic era.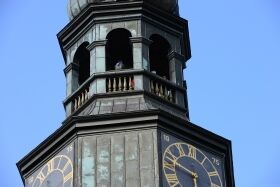 STADE Marketing und Tourismus GmbH
St. Cosmae Church
Stade's landmark was built in the 13th century as a late-Romanesque single-nave church – it burned out during the town fire in 1659. Its trademark is the stately octagonal crossing tower. From the bell tower, visitors can oversee the entire city. Inside St. Cosmae stands an Arp Schnitger organ. Some of the concerts during the Hansa Song Festival are held here.
Contact
Stade Tourism Information Centre
Hansestr. 16, 21682 Stade
Telefon 04141 776980
info@stade-tourismus.de
www.stade-tourismus.de
Travel options
Stade is located along the motorway A26, or alternatively the state road B73 from Hamburg to Cuxhaven. The city is easily reached via the A7 or A1 from Hamburg or Bremen. Stade is attached to the public transport network of the Hamburg Transportation Authority (HVV) and is well-connected by rail. With the Wattenfährlinien (Wadden ferry lines), there is even connection by boat from Hamburg to Stade crossing the river Elbe.