Highlights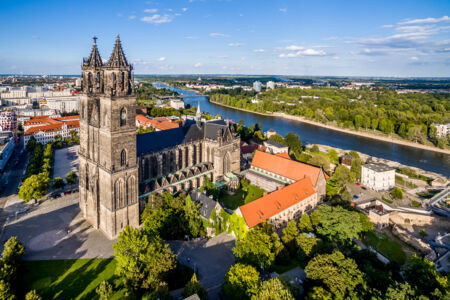 Andreas Lander | Magdeburg Marketing
Magdeburg and the Elbe
A rich history connects the Elbe metropolis with the late medieval city league. Long distance trade in Europe made it necessary to coordinate the trade partners. Magdeburg was one of the most important transshipment centers for European trade. The location on the Elbe was decisive. Magdeburg city law monopolized trade on the Elbe. Because of its central position in the grain trade, Magdeburg was called the "bread house of the Hanseatic League".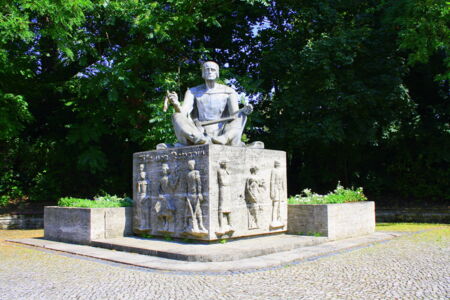 Monument to Eike von Repgow
Magdeburg city law was the driving force behind the legal development in Germany. Special merit goes to Eike von Repgow (1180-1233), who wrote the first German prose work and one of the oldest legal books with the "Sachsenspiegel". The Magdeburg merchants' guild created a law that has become one of the most famous for centuries "Export hit" of our region.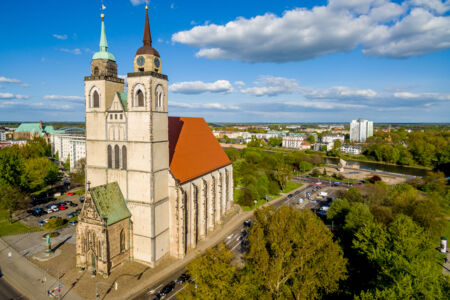 St. Johns Church (Johanniskirche)
Johanniskirche is the oldest merchant church in Germany and a landmark of the town. St. John's fell victim to many fires and was destroyed when General Tilly's army invaded Magdeburg in 1631. However the citizens never tired of rebuilding the church. St. John's Church left its mark on history when an important and far-reaching event took place: On 26th June 1524, Martin Luther held a famous sermon on right and wrong justice whereupon all parishes of the city centre converted to Protestantism – as laid down in the annals of Magdeburg. A memorial in front of the building commemorates this historical event.
Andreas Lander | Magdeburg Marketing
Magdeburg Cathedral of St. Mauritius and St. Katharina
After construction began in 955, the structure underwent several redesigns. The cathedral is the first Gothic-style cathedral on German soil. It was built from 1207 as the cathedral of the Archdiocese of Magdeburg. The cathedral is the grave church of Otto the Great, the first German emperor.
Contact
Tourist Information Magdeburg
Breiter Weg 22, 39104 Magdeburg
Phone: 0049 391 63601402
Email: info@visitmagdeburg.de
Travel options
Magdeburg is located in the center of Germany and as a major city it is easily accessible by all forms of transportation.
By car: you can easily acess the capital city via the A2 motorway Hanover-Berlin, the A14 motoway Magdeburg-Leipzig-Dresden.
By air: Magdeburg is well connected to international Airports such as Berlin an Hanover (approx.100km) an Halle / Leipzig (approx.100km)
Virtual offers