Highlights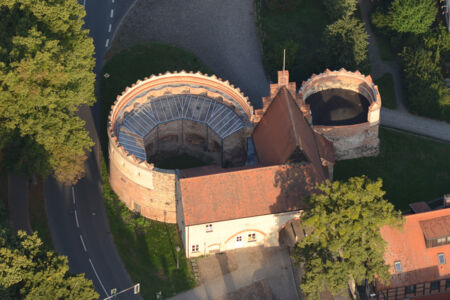 Hanseatic city of Gardelegen
The Salzwedel gate
One of the landmarks in Gardelegen is the Salzwedel gate. It is one of the four town gates from the 16th century and belongs to the old connection ring of the wall. After almost complete decay, Prussian king Friedrich Wilhelm IV let the gate repair again. Till nowadays you can go through the impressive so-called battery towers.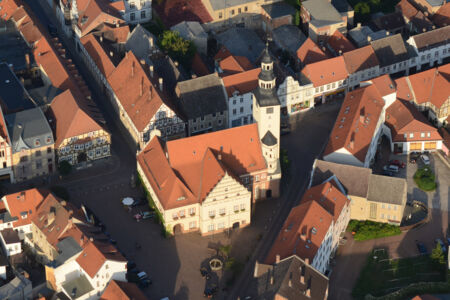 Hanseatic city of Gardelegen
The Town hall of Gardelegen
In the heart of the historical old town, on one of the few trianhular marketplaces of Europe, the town hall is situated. With a huge number of architectural details and construction ingredients from the past epochs, the town hall presents itself in such a way as it was reconstructed by Berlin architect Otto Stiehl in the years of 1914 to 1917. In front of the city hall stands, as a symbol of the urban freedom and justice, the statue of Roland.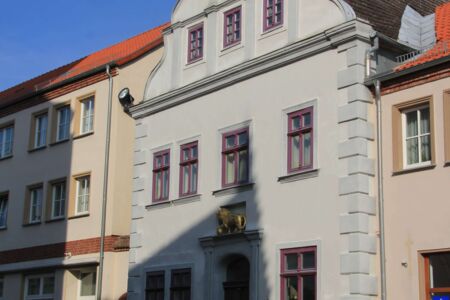 Hanseatic city of Gardelegen
Lion´s chemist shop, nowadays Tourist-information
Obviously you can see the characteristic of the lion´s chemist shop is the golden lion above the main entrance. Today the tourist information of the unity municipality hanseatic town Gardelegen is accommodated here, In addition, the historical chemist´s shop equipment is to be seen as well as memories of Gardelegen´s brewing and hop tradition in the vault cellar and art exhibitions in the gallery floor.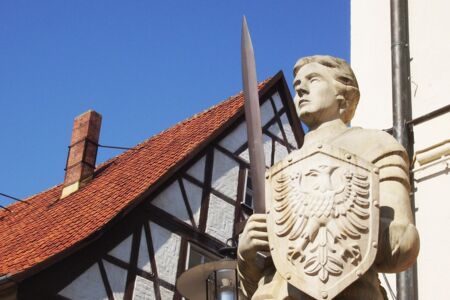 Hanseatic city of Gardelegen
Statue of Roland by the town hall
In front of the city hall stands, as a symbol of the urban freedom, justice, prideful and efficiency from the artisan and traders, the statue of Roland. The Statue was mentioned in a document for the first time in 1450. After many fires the Roland was finally broken on the 7 november 1727. After 275 years, he was reconstructed.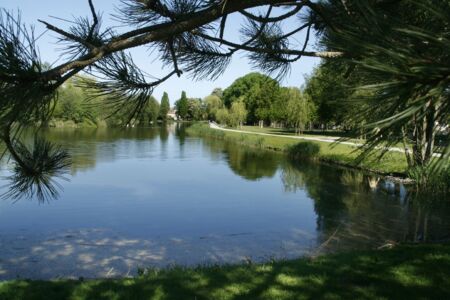 Hanseatic town of Gardelegen
Gardelegen´s fortification
The salzwedel gate is the most impressive buildings remind the hanseatic time and the best preserved's gate. On
the tour Gartenräume: Wallanlagen you can see the remains of fortification from the magdeburger and stendaler gate. Retained too is a part form the town wall and the town moat which protect the city in earlier times.
Contact
Tourist Information hanseatic town Gardelegen
Rathausplatz 10
39638 hanseatic town Gardelegen
Phone: +49 3907 42266
Mail: touristinfo@gardelegen.de
Travel options
Gardelegen is from Magdeburg or Uelzen about the B71 and from Wolfsburg or Stendal about the B188 accessible. The next freeway is in a distance of 50 kilometers by Magdeburg (Ebendorf) or Wolfsburg. From the train station of Gardelegen you can drive in the direction of Berlin, Hannover or Stendal. Also you find in all of our villages a bus station. The next airfield is in Hannover (Langenhagen). A special option for the association of glider or motor sailer is the airport from the Fliegerclub Gardelegen e.V with the label "EDOC".
Virtual offers