Highlights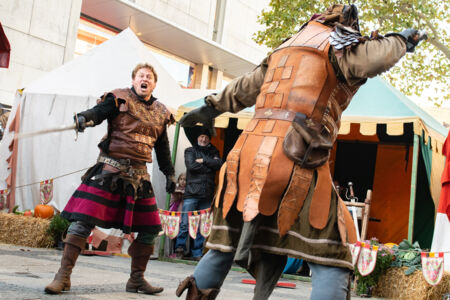 Photo: Roland Gorecki | Stadt Dortmund
Hanse Market
Visit the annual Hansemarkt and travel back in time to soak up the atmosphere of a medieval Hanseatic city. Historic crafts, jugglers, knights, battles and tournaments, a nostalgic fairground and of course plenty of food and drink await you. Watch the woodturners, carpenters and blacksmiths show off their skills – and maybe even have a go yourself!
Read more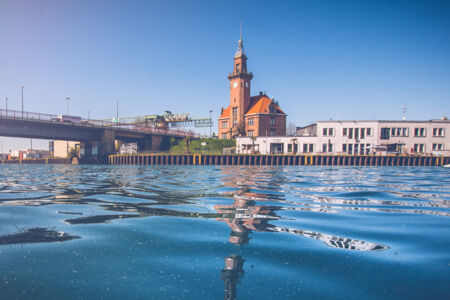 Photo: Roland Gorecki | Stadt Dortmund
Port of Dortmund and old port master's office
The old port master's office was built in 1898 and inaugurated together with the port of Dortmund the following year. The facade's decorative panels reference the old Hanseatic city. A mosaic floor inside, which can be visited on a guided tour, shows a Hanseatic vessel bearing the Dortmund eagle on its sail.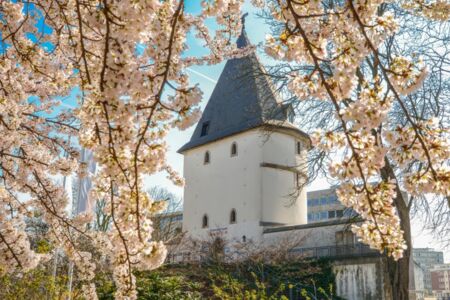 Photo: Roland Gorecki | Stadt Dortmund
The Hanseatic Cog at the Adlerturm Museum
Close to the Adlerturm children's museum stands a stainless-steel sculpture, the "Hanseatic Cog", created in 1982 when Dortmund celebrated its 1,100th anniversary and hosted the Hanseatic Convention. There's a playground of the same name with a wooden ship, too. The Adlerturm museum presents the history of this Hanseatic city through the Middle Ages.
Read more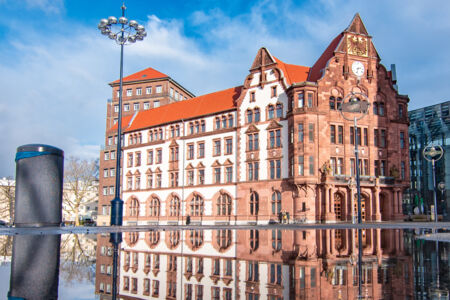 Photo: Roland Gorecki | Stadt Dortmund
The Old City Hall
The facade of the old city hall features the eagle from the city's coat of arms, the coats of arms of eight other Hanseatic cities and, to the left, a woman with a Hanseatic cog and town hall personifying trade. Built in 1899, the old town hall stands adjacent to the sleek glass Berswordt Hall and the New City Hall.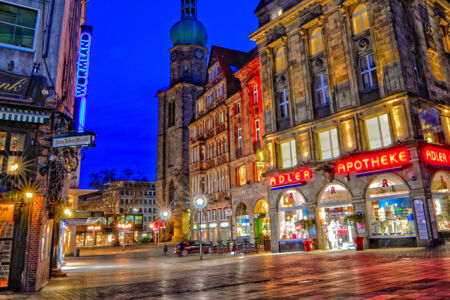 Photo: Roland Gorecki | Stadt Dortmund
The historical Hellweg
In the Middle Ages, the "Westfälischer Hellweg" was a major trading route that ran right through today's city centre. The street names Westen- and Ostenhellweg have endured to this day, with the city's oldest church, St. Reinoldi, at the point where they meet. Commerce still dominates the old trading route with many shops and the Thier-Galerie mall.
Contact
DORTMUNDtourismus
Kampstraße 80
44137 Dortmund
+49 (0) 231 189990
visit@dortmund.de
Travel options
Many roads lead to Dortmund. After all, the city is surrounded by a grid of transit links with quick access to one of Europe's densest autobahn networks. Many of the continent's major economic centres are just an hour or two away, thanks to Dortmund's international airport. And with hourly ICE, IC and EC train services in all directions, Dortmund is easy to get to wherever you're travelling from, whether from inside or outside Germany.