Highlights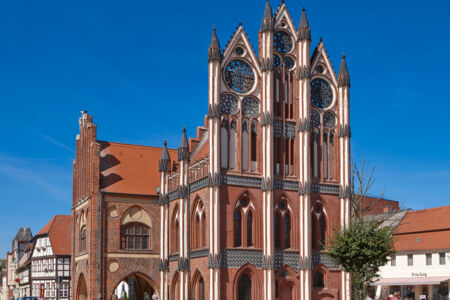 Historical town hall
The east side of the town hall with its magnificent 24 m high late Gothic magnificent facade was built around 1430. About 50 years later, the transverse structure with the court arbor was added. This building illustrates the former prosperity of the town's citizens. On the top floor there is the magnificent town hall banquet hall and the wedding room. The first floor and the basement rooms are used as a museum. The town hall is considered a showpiece of German architecture.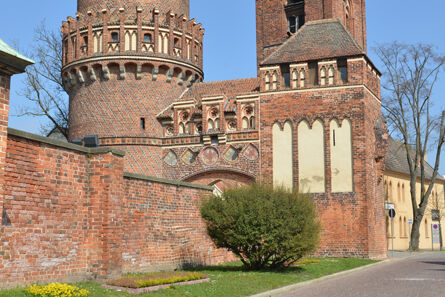 Neustädter Tor
This gate is one of the most beautiful medieval gateways in northern Germany. The rectangular tower was built around 1300. The round tower and the central structure were built around 1450. The plaster panels above the gateway bear coats of arms painted in 1897. Starting from the left, they are the Prussian royal eagle, imperial eagle of the Bismarck Empire with the applied Hohenzollern shield, Tangermünder eagle, Eagle of the Holy Roman Empire of the German Nation and the Brandenburg Eagle.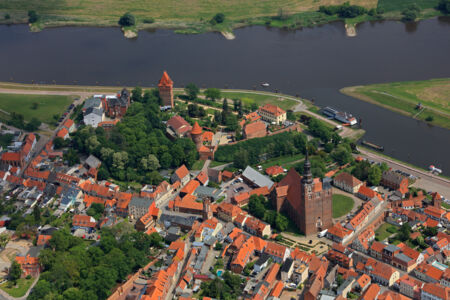 St. Stephen's Church
In the late Middle Ages, the predecessor building erected in the 12th century was rebuilt and extended to become a hall church in the style of North German brick Gothic. Hardly any of the church's original furnishings remain, as they fell victim to the flames during the town fire of 1617. St. Stephen's Church is famous for the Scherer organ from 1624, which is one of the ten most valuable historical organs in Europe. After extensive restoration work, it has been sounding again in St. Stephen's Church since September 1994 and 2018.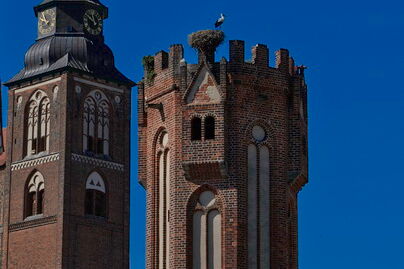 Hünerdorfer Tor
Of the original double-gate complex, only the 24-meter-high fortified tower of the main gate, the lower part of which was built around 1300, has been preserved. Around 1460/70 the tower was continued in octagonal form.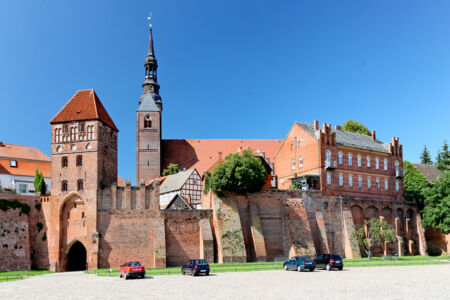 Rossfurth and Elbe Gate
The Rossfurth is an approximately 100 m long hollow way, bordered by high lining walls, which leads from the Elbe Gate up to the town. Until the last century it was the only access to the city from the Elbe side. The Elbe Gate was built in the 15th century. On the left side of the archway there is a gauge with the highest water levels of the past centuries.
Contact
Tangermünder Tourist Office
Regine Schönberg
Markt 2
39590 Tangermünde
Tel.: +49 (0)39322 22393
buero@tourismus-tangermuende.de
Travel options
Tangermünde is very easy to reach by road, rail and waterway.