Highlights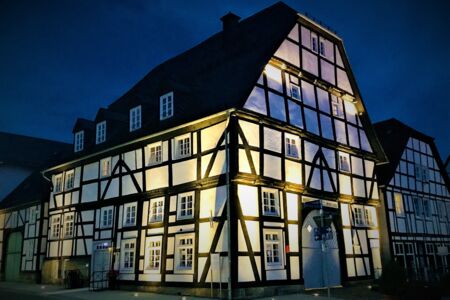 Haus Buuck
You will find an impressive half-timbered house, supposed to be the oldest house in Rüthen, near the "Hachtor" in the centre of Rüthen. It is a typical Hanseatic merchants' house from 1609 with a three-storey loft. There are so-called "Neidköpfe" on the crossbeam of the gable, ugly faces which were supposed to avert envy and disaster. Walkers, discoverers, meeting guests or history enthusiasts can even spend the night in this 400-year-old monument.
Read more
History of rope making
The rope makers in Rüthen produced different types of ropes which were even delivered to Nowgorod, Russia. In the historic craftsmen's village, the history of old, typical local trades (stonemason, blacksmith) is presented. The neighbouring building of a former rope factory (1914) documents the role of the rope-making business. The cable-railway building has a length of 60 metres and represents a rare architectural monument.
Read more
Contact
Tourist information Stadt Rüthen
Hochstraße 14
59602 Rüthen
Phone: +49 (0)2952/818-172
Travel options
Public transport (ÖPNV):
You can take the train to Lippstadt and from there you take the regular bus R62.
If you travel by car:
You take the motorway A 44 and leave it at Erwitte/Anröchte. Then, you take the interstate highway B 55 and from Belecke the B 516 or alternatively, you can leave the motorway A 44 at Büren and take the U 63.