Highlights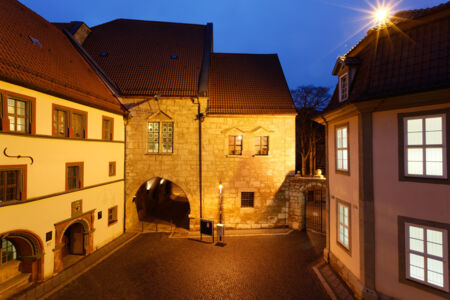 Tino Sieland | Wirtschaftsbetriebe Mühlhausen GmbH
Town Hall
As a symbol of urban unity, the first town hall was built around 1270/80 exactly on the border between the old and new town. After a fire around 1330, the upper storey was renovated and considerably extended to the west. This Gothic core building and its post-medieval extensions form a town hall complex of different building and furnishing styles. With the town hall, the council chamber and the Reisstädtisches Archiv (Rice Town Archive), representative and functional rooms from the imperial town era of Mühlhaus have been preserved here.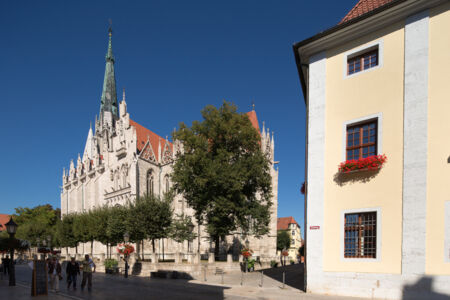 Tino Sieland | Wirtschaftsbetriebe Mühlhausen GmbH
St. Mary's (Marienkirche)
Mühlhausen's impressive Marienkirche with the highest church tower in Thuringia is visible far beyond the city limits. In its function as a Müntzer memorial, museum and meeting place with religion and culture, the Marienkirche is closely linked to the fortunes of the town and its citizens. The exhibition areas in the building, which was secularised in 1975 and has since been used as a museum, offer a diverse range of exhibits. For example, a separate area in the chapels is dedicated to the radical reformer and former preacher of St Mary's, Thomas Müntzer.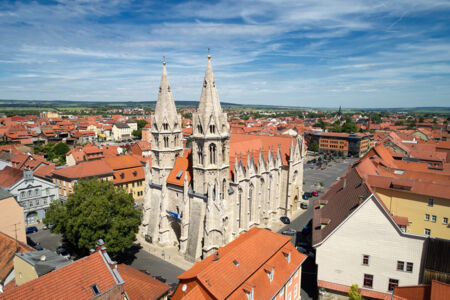 Tino Sieland | Wirtschaftsbetriebe Mühlhausen GmbH
Divi Blasii
The Untermarktkirche is one of the earliest Gothic churches in central Germany; it was built between 1270 and 1290. The valuable furnishings include stained glass from the late 13th century, the window rose window of the north transept and the late Gothic carved altar. The preserved bells from 1281, 1345 and 1448 are beautiful. After the Reformation, the "Divus" became the attribute of the patron saint Blasius instead of the "Sanctus". Johann Sebastian Bach was organist here in 1707/08.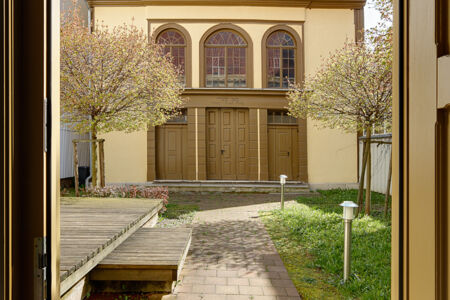 Tino Sieland | Wirtschaftsbetriebe Mühlhausen GmbH
The synagogue
There was already a synagogue in today's Jüdenstraße in the 14th century. In 1839, the Jewish community acquired the property. The front building served as a community centre with classrooms and a rabbi's flat. The synagogue was built in the backyard. Desecrated on 9 November 1938, the house of worship was not burnt down solely out of consideration for the neighbouring buildings. 60 years later, the Mühlhausen synagogue was consecrated again after renovation. It is owned by the Jewish Community of Thuringia and is used by the town of Mühlhausen as a meeting place.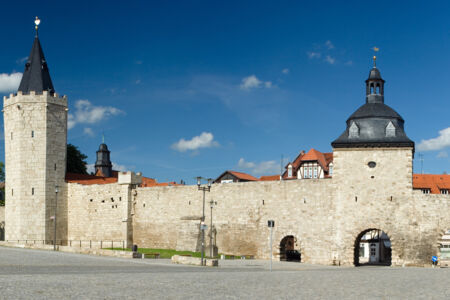 Tino Sieland | Wirtschaftsbetriebe Mühlhausen GmbH
Town Wall
The 2.2 km of preserved town walls illustrate the fortified nature and importance of the former free imperial town. Mühlhausen thus has an almost completely preserved defence system. It can be explored over a length of 370 metres. Some of the numerous defence towers and rondels were later converted into pavilions. They house themed rooms on the historical use of the complex and on danger defence in the urban environment. The viewing platform of the Rabenturm offers a panoramic view of Mühlhausen and the surrounding area.
Contact
Tourist Information Mühlhausen
Ratsstraße 20, 99974 Mühlhausen
Tel.: +49 (0)3601 404770
service@touristinfo-muehlhausen.de
Travel options
Arrival by car via the B247 / 249
Arrival by train via Erfurt / Göttingen / Kassel